company
shared.com
The simple solution for file sharing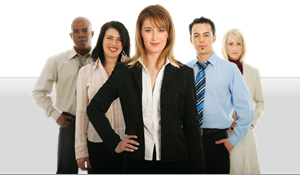 Frequently Asked Questions (FAQ)
What is companyshared.com?
CompanyShared.com is a product designed around the growing needs of today corporate environment. With the power of the internet and the ability to share files securely over the internet, a company can cut its cost on over night document delivery charges.This is just the beginning of how corporate American uses CompanyShared.com. The possibilities are endless!
Next Solutions, Inc. has been in the Information Technology Outsourcing Business for the pass 10 years and over the years we have learn that our customers come first. What our customer wants and needs help drive our development process.
Why does my company need companyshared.com?
CompanyShared.com delivers the power of the Internet to your finger tips. Why use old and difficult FTP services that are complicated and cumbersome for your clients and staff. CompanyShared.com is a web base online file sharing service that you can used to securely deliver data such as: Documents, CAD Drawings, Accounting Files, Spreadsheet, Music, Software, Multimedia Files, and many more. What more can we say about our service. Try it. Many others have and are happy with the service.
What is the different between companyshared.com and plain old FTP service?
CompanyShared.com is a secured and encrypted web base file sharing service. When you use CompanyShared.com you are protected by SSL authentication. CompanyShared.com delivers that simplest web transfer experience ever. We offer easy of use by simply allowing your users to only have functions that you specify they, needs such as upload or download or both.
FTP on the other hand requires a more technical savvy user, to securely encrypt and transfer files. To do so for the average user will required the uttermost waste of time. And everyone knows in a business environment time is money and money translate to productivity.
How do we signup for CompanyShared.com?
CompanyShared.com is a monthly fee subscription. If you want to sign up for a customized account, contact Next Solutions to discuess pricing.
To sign up for a pre-made package click on the

Sign Up button
This is located at the top of the page and selects the storage size and amount of uses that meets your needs. It's that simple!
How do I login to CompanyShared.com?
Go to the web address: http://login.companyshared.com/
Click on the


Login
Enter your unique username and password to you space.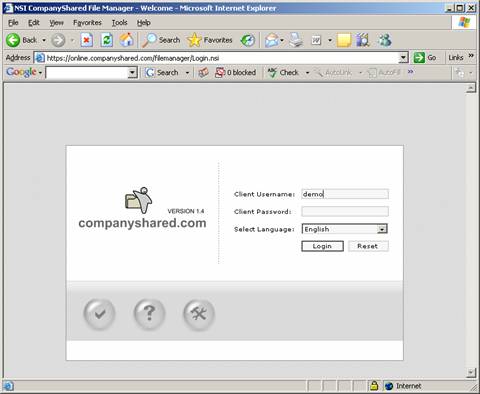 How do I download my files?
Select a file you want to download and click the check box next to it.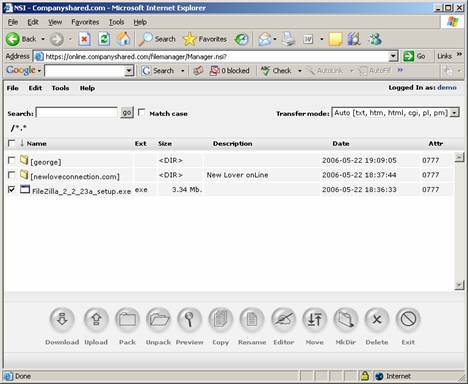 Now click on the download button to the left bottom of the screen.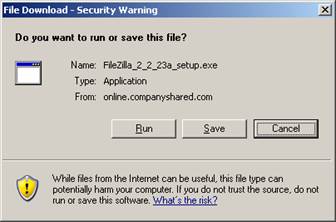 Click the save button and select the place you would like to save you file too.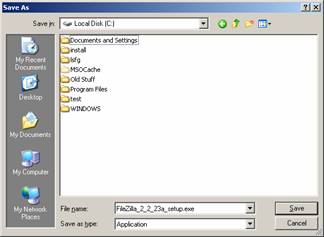 Remember where you have save you file, so that you can retrieve it later.
How do I upload my files?
To upload simple navigate to the lower too bar and click on the upload button

Upload
Now you will get the following pop-up, so make sure you turn off you pop up blocker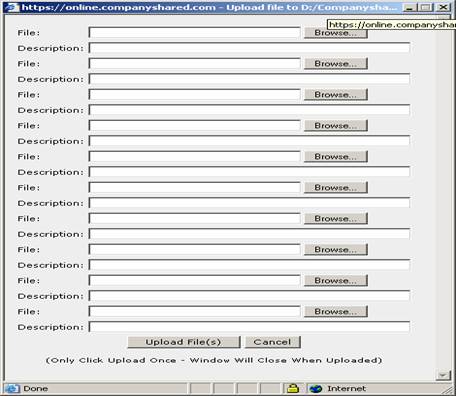 Click on the browse button and locate you files, select it and click ok or Open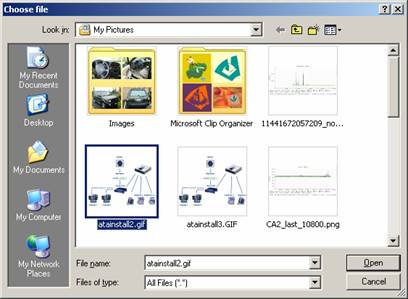 Click the upload File button at the bottom of the pop up window.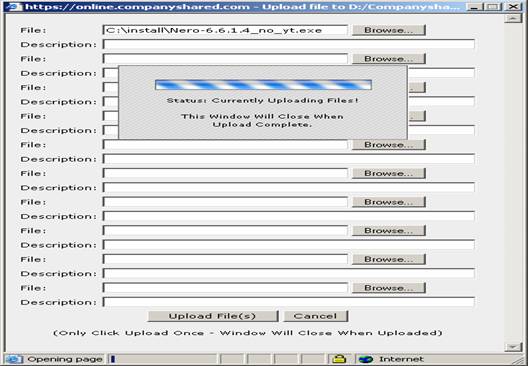 How do I compress files?
Currently we only support tar compression and un-compression. To download multiple files you can select the files and press the pack button on the tool bar. This will package the files to a tar compression and post it back to your folder for download.

Pack
How do I un-compress files?
To un-pack a tar file you can do this online, by just selecting the compress files and clicking on the unpack icon.

Unpack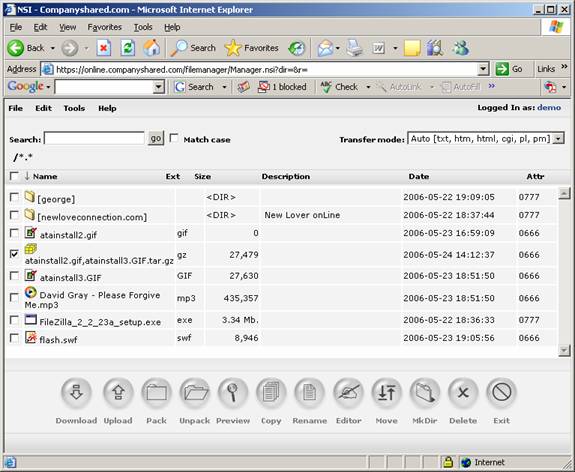 How do I move files to a directory?
To move a file you will need to do the following;
Select the file you want to move
Click on the move button, a pop up will display what you want to move.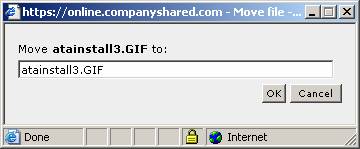 Look at the original directory location on your portal. Now type in the "/" and the path name you want the file to go to.
Example: If you want it to be moved a file name atainstall3.gif to a folder that is name test, than type "/test/atainstall3.gif." Now click "OK"
How do I create a directory?
Simply click on the "mkdir" button and you will get a pop up looking like the one below.
Type the name of the directory and a description of the directory. Then click the OK button.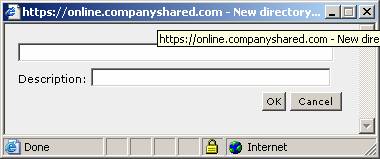 How do I setup my user to access my files or folders?
Because CompanyShared.com is designed for the corporate environment with the intention for file sharing between vendors and clients. Corporate users cannot change their password nor create their own user accounts. All accounts are managed by Next Solutions, Inc. and require an email request to create or delete an account. All Emails are processed within 24 hours.